Today I renewed my vow to raise a bunch of money for the American Cancer Society. I'm ready to hit the ground running! Team Check 'Em Out is poised to break our record this year by building our team, trying new ways to fundraise, restaurant nights, dessert sales, percentage donations, and good old fashioned bowling-alley-panhandling! Hey, we're not proud!
Well, actually, we are. We have a great team of dedicated, passionate and motivated members, each with a personal reason to fight this horrendous disease. Sadly, our Reasons to Relay still grow with each coming year, but we remain confident that our efforts will be rewarded someday.
Planning will soon begin for our SIXTH ANNUAL wine tasting,
POP A CORK FOR A CURE!
This awesome event will be held in early May, date TBD — but you can bet we'll let you know. In the meantime, I'm humbly accepting donations at my Relay page. Donations of $100 or more will get you an autographed copy of my latest book–but I'd take just your Starbuck's money for a couple of weeks, too!
Who's with me?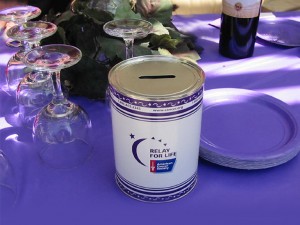 I'll make this brief and try not to preach too much. Sad to say, nothing brings people together like cancer. Or rather, the pain, grief and fighting of this insidious disease. No one is unaffected. People will commiserate, sympathize and give generously of their time and money to combat cancer, through one or more of the many charitable and philanthropic organizations fighting the good fight.
Why? Because it's all we can do. We aren't the scientists, the doctors, the chemists. Most of us cannot fund major research projects or care facilities on our own. Instead, we support our loved ones, carting them to clinics, hospitals and doctors' offices. We sit by their bedsides, offering what little comfort we can. We pray. We hope.
So when an opportunity comes along to add what little we can do to the collective efforts of others, it feels good. A modest $25 donation looks mighty good alongside 200 other modest $25 donations, because $5000 is significant. The American Cancer Society will spend 97% of that significant donation on research and patient care, along with their own fundraising efforts, to make sure the contributions keep on coming.
On May 8, 2010, my SCV Relay For Life Team Check 'Em Out! teammates and I will be pouring wine, providing snacks and entertainment during an afternoon of fun and charity. As in years past, we'll have silent auction items, raffle prizes and luminaria bags available. A little soft pop, swing jazz and rock 'n roll. Sunshine* and flowers and fresh air. Neighbors and friends, all with a common goal—to eradicate cancer.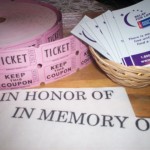 Music, wine and laughter. I know of no other event in town where you can have this much fun for a $25.00 donation. Please join us at Pop a Cork For a Cure. Auction items and raffle prizes gratefully accepted. Click link for more details.
http://www.scvrelay.org/2010/Fundraisers/WineTastingMay8.pdf

*PS – May weather varies! You may have to BYO sunshine.