Second Chance Review: The Butler
Another film I missed first time around (which pretty much describes all films these days).
From IMDB:  "As Cecil Gaines serves eight presidents during his tenure as a butler at the White House, the civil rights movement, Vietnam, and other major events affect this man's life, family, and American society."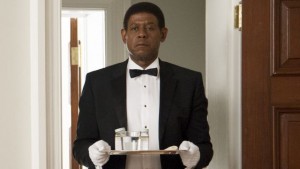 The Butler boasts a star-studded cast of great actors, too many to list here (and actually so many it's distracting) but must give a nod to Forest Whitaker in the starring role.
This film tries to keep focus on the modern history of civil rights in America, as viewed through the eyes of the main character(s), but while enjoyable in parts, I found the storytelling uneven and the timeline off-balance. I realize in the interest of time, some periods were depicted in great detail and others merely skimmed over, but this pacing was disconcerting to me. There is some historic value – recreations of actual events bring familiarity; however, it's difficult, perhaps, to recreate historical events for viewers old enough to have experienced them first hand (and who know better). Scenes involving the various presidents are cliched and uninspired. The sub-plot surrounding Gaines' wife's (Oprah Winfrey) addiction and pursuit by their friend/neighbor feels forced, although the acting was first rate by all.
The inclusive of so many stars takes away from the story. I found myself marveling at the big names rather than experiencing their roles. ("Gee, why did they pick John Cusack to play Nixon? Hey, is that really Alan Rickman?") Despite the irony, however, I did love Jane Fonda as Nancy Reagan.
This was supposed to be a true story yet I understand a great deal of poetic license was taken. But what else is new? Most film adaptations do.
All in all, not as good a film as I'd expected. Grade:  C.