Second Chance Review: Philomena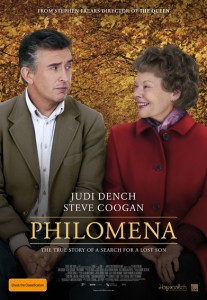 Philomena is a lovely film. When I first saw the trailers for this true story about a mature Irish woman in search of the child was forced to give up while living in a convent as a young girl, I knew I would love the BBC drama. Judi Dench portrays Philomena, a remarkable, if frustrating, protagonist whose sad tale inspires tears more than once throughout the film. In the course of her search, she partners with the recently unemployed journalist Martin Sixsmith, competently played by the film's writer, Steve Coogan. From a historical aspect, Philomena brings to light some — dare I say sordid? — practices of an Irish Catholic convent during the mid-20th century. I can't say too much without crossing the "spoiler" line, but the story weaves an intriguing journey through the past as Philomena uncovers clues to her son's identity and life. A strong, underlying subplot draws attention to the role faith plays in how people respond to life's unexpected adversities.
While mothers will find Philomena's tale most poignant and emotional, all viewers will likely marvel at the unusual turn of events that leads to a surprising and bittersweet revelation.
I enjoyed the entire production. The cinematography, music, landscapes, and the talent all combine to make this a worthwhile watch. Grade:  A-