By Anne Carter – Page 3
Unmasking Paulie Bingham
Until Katrina Newman touched his face for the first time…
British pop star Paulie Bingham was content with his openly gay lifestyle. That he could be any other way never entered his mind. Now, with Kate tugging at his heartstrings, he begins a journey of self-discovery that will lead him through the best-and worst-times of his life. Though her faith in him sometimes falters, Kate's love for Paulie never ebbs despite his obsessive ways, his foray into drugs and his habitual infidelity. But will his connection to a high-profile London murder case prove more than Kate & Paulie's tattered relationship can handle?
Series: Paulie & Kate
Paperback: 308 pages
Publisher: Beacon Street Books (July 1, 2013)
ISBN-10: 0615638406
ISBN-13: 978-0615638409
Kindle Edition:   ASIN: B00AAMH1HS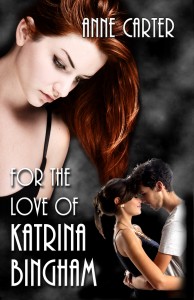 For the Love of Katrina Bingham
Kate Bingham's life has never been ordinary…
so she has no reason to think it will settle down anytime soon. With Paulie safely across the pond and living the life he should, Kate struggles to build a new world where she can finally get what she needs. But just what she needs is the problem: the promise of a new love, a man who's stood by her, waited in the wings while she helped Paulie survive unfathomable pain… or has Paulie bound himself to her so intricately that she can never escape the obsession? Rob Evans longs for a future with Kate, but he won't hang around forever. When Jon Beale's murderer resurfaces in Los Angeles, Kate finds herself torn between her protectors, neither of whom are truly able to keep her safe. Someone is out to hurt Paulie through the ones he holds dearest, and everyone knows Kate heads up the list.
Series:  Paulie & Kate
Paperback: 210 pages
Publisher: Beacon Street Books (November 4, 2013)
ISBN-10: 0615716326
ISBN-13: 978-0615716329
Kindle Edition:  ASIN: B00EW9HW9C