First Look: Secrets and Lies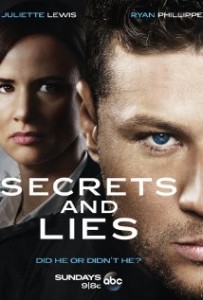 This is a new drama/miniseries (ten episodes) on ABC.
From IMDB:  A family man finds the body of a young boy while jogging and becomes the prime suspect. He has no choice but to try to find the real killer as his marriage, his kids, his reputation, and his sanity are all at stake.
I watched the first two hours (season premiere) and by the end, I felt exhausted. I told my husband, "there should always be some periodic relief for the viewer. This show has none." It literally doesn't let up on the tension. First of all, it breaks the rule about showing dead children onscreen. Little Tom Murphy has been murdered, and there is a brief showing of blood on the hand of the man who finds him.
That man is the belabored protagonist Ben Garner (well-played by Ryan Phillippe), whose drunken memory-lapse casts the only minute shadow of doubt over his innocence. The cop doggedly harassing him really has nothing to go on, yet she is so annoying in her pursuit I almost just turned off the show. Juliette Lewis' portrayal of Detective Andrea Cornell might be considered great because we hate her so much.
Reviewers have used the words "catchy, perfectly flowing" but also "boring," "annoying," and "irritating." I understand, people! Apparently, it is a remake of an Australian effort that was (again, apparently) much better.
Will I tune in next week and give it a third hour of my life? I kinda want to just skip to the end to see Detective Cornell eat crow, which she undoubtedly will. We'll see.