Field Trip: Forest Lawn Glendale Museum
For the last few years, my family (specifically my brother, his wife, my husband and I) have been taking once-a-year field trips around Los Angeles to take in some iconic and/or historic sights. So many of us grew up here, smack dab in the middle of a rich, cultural stew, and have never seen so much of it. We've toured places like Griffith Observatory, the Getty Museum, Angel's Flight, the Bradbury Building, etc. We augment our little trips with out-of-the-way eateries and unexpected side forays. For our Downtown venture, we boarded the lite rail and took it to Pershing Square. We took time to admire a stories-high, vintage painting of Anthony Quinn as Zorba the Greek on the side of a brick building.
Read more about Anthony as Zorba
Better known as "The Pope of Broadway," the 70-foot mural painted in 1985 by artist Eloy Torrez, was inspired by the actor's 1964 role in "Zorba the Greek." – See more at: http://hollywood.greekreporter.com/2014/10/29/restoration-ahead-for-anthony-quinn-zorba-the-greek-inspired-mural/#sthash.mPqN0CZU.dpuf
This year, we decided we go in search of stars' graves. Funky, perhaps juvenile, I know; but it caught my fancy so off we went to Glendale. After first partaking of a delightful lunch at the Los Feliz Cafe, we headed on over to the one of the most beautiful cemeteries ever. Forest Lawn in Glendale is also unbelievably huge. Over 300 acres, with over 300,000 gravesites. It is the single largest final resting place for movie stars–over a thousand individuals of some level of show business notariety. My brother and I are both film buffs and truly appreciate many of the legendary stars of the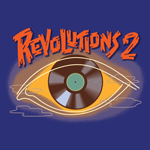 past, so we looked forward to seeing how they…ended up. But you won't find any "Maps to Stars' Graves!" at Forest Lawn. Quite the contrary. The young man at the gate was polite and quietly explained where we might find James Stewart and Liz Taylor, but beyond that, we were on our own. According to Seeing-Stars.com, the establishment can be downright hostile about sightseers.
While touring the park, we came upon the Museum, which is currently hosting "Revolution 2:  The Art of Music." Can you imagine my delight? Here was a treasure trove of original album cover art, rock star portraits, magazine covers, and a special section showcasing the art of William Stout. Unfortunately, no photography was allowed, but above [Beatlesongs!] is a sample of Stout's work. You may also know him from Firesign Theater and Life of Brian.
A video was playing, and we sat a while to watch Live Aid 1985, the portion offering Elton John, Kenny Loggins, and George Michael. Talk about being in hog heaven.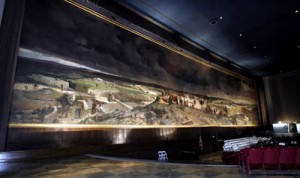 Afterward, we entered the Hall of the Crucifixion-Resurrection for a telling about the painting and refurbishment of Jan Styka's "The Crucifixion" – a canvas that is 195 feet wide by 45 feet high. The video accompanying the display was very entertaining and informative.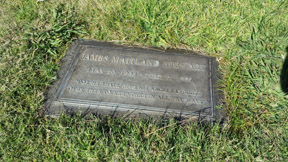 Finally, we got back into the car and went in search of Jimmy. We found him, right where the gate attendant had said he'd be, beside his wife Gloria. We were humbled by the simplicity of this wonderful man's grave.