2016 RWA Convention
Just attended my first Romance Writers of America convention! What a trip! Okay, that term dates me. But honestly, had a wonderful time.
You know, whenever you commit to go together with others, share a car, a hotel room, expenses, etc., you always kind of wonder how that will be. Especially when you don't know the others that well. Years ago, I shared a room at a sales convention with a woman who only went to get away from her home so that she could drink. And drink. I didn't mind that much, but she wasn't that conversational once drunk on her behind, you know? But I digress.
I went to San Diego with two romance writers from our local RWA chapter, and we met up with a couple more once there. Shelley Winsor, Laura Emery, Lee Souleles and I got along like besties the whole time. No one had any annoying habits! No one had ulterior motives! No one felt they were better than the rest and therefore, were not snobby or self-absorbed!
The convention itself was fab. The workshops, publisher spotlights, keynote speakers, book-signing, goodies & swag, vendor fair, and meals were all well planned and carried out. The workshops I attended were:  Maximize Your Discoverability on Amazon, What Really Happens at a Romance Novel Cover Photo Shoot, Mastering the Art of Great Conflict, Newsletters, Back Matter, and Other Indie Marketing Strategies, How to Sustain and Advance an Established Indie Career and Chapter Treasurer Seminar. I also enjoyed sitting in on Spotlight on St. Martin's Press where I listened to 7 acquiring editors talk about their needs and wants at St. Martin's. What a great bunch of ladies! As authors, we tend to look at these folks as goddesses. They didn't disappoint.
The swag and goodies were plentiful, but the book-signings were beyond belief. Nearly every major publisher was represented by their authors, and dozens of fabulous indie authors signed as well. (And this, ladies and gentlemen, is what attracted me back to RWA after several years away.) My co-travelers brought home nearly 200 signed romance novels!  You should have seen the back of my SUV—packed nearly to the ceiling!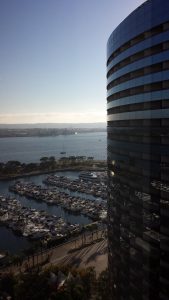 The San Diego Marriott Marquis Hotel was marvelous, we had an end room with beautiful views of both downtown and the marina. The Tequila Bar & Grille became a favorite hangout, and one night we ventured down to the Harbor House in Seaport Village for a lovely dinner with several members of our chapter. On the walk back, we watched aerial fireworks shot off from Coronado Island!
All in all, a terrific trip with great people. We are already planning a trip to Romantic Times in Atlanta next year!