Hello all!
Many thanks and welcome to all my new followers. It's gratifying to be a part of such a wonderful, diverse business!
Today is the BIG EASY BLOG HOP! I was "talked into" this lovely tradition by author Cheryl Norman, an old pal and wonderful author. Thanks, Cheri! Check out her terrific list at Amazon. Cheryl's books range from the romance of the road (Route 66 locales), Florida mysteries, a cruise ship full of nudists… and cookbooks! Take a moment to check out her diverse stories!
So, here are my answers to the posed questions.
What am I working on?
What am I NOT working on! I seem to have a lot in process right now, from introducing and marketing my Beacon Point Romances to writing the second half of THE GYPSY IN ME, the third novel in the StarCrossed Romance series. GYPSY takes places a few years after the ending to A HERO'S PROMISE, and involves the lives of the now grown children of romantic rivals, Mac & Dane; these big-screen heroes were introduced in StarCrossed Hearts.
Coming on June 19th is the third in the Beacon Point Romance series, ANGEL'S GATE. This is a great follow up to both POINT SURRENDER and CAPE SEDUCTION, all paranormal romantic mysteries that take place in California lighthouses.
How does my work differ from others in its genre?
Well, I've never much cared to worry about genres. I guess you could point to the lighthouses as a "different" aspect. Then there's my Paulie & Kate duet, books about the tumultuous relationship between a bisexual glam rocker and his very straight make up artist. UNMASKING PAULIE BINGHAM has garnered rave reviews all around. I call this story "alternative romance."
Why do I write what I do?
Good question. When I figure that out, I'll let you know! Next?
How does my writing process work?
When I have an idea for a story, I am always writing. Early morning, late at night, driving around town…the characters are building the story in my head. I'm really no different than any other author in that respect. I do tend to edit as I write, which might make me a bit slower.
I think that's enough for today! I'll be back tomorrow to share a little more, including any authors who might be following me in this "hop!"

Okay, I was going to wait and do a proper Cover Reveal, but I'm not very good at waiting. I'm too busy to just sit around and watch the days on the calendar count down.
I am so excited about the release of my new series and all my new and updated covers!   Here's a sneak peak at the quartet of books:
Ever & Always is the prequel; this book is a sweet romance with a good little mystery that will surprise you in the end; this is Jack & Maddie's courtship book. No paranormal elements here. Releases May 7th!
Point Surrender and Cape Seduction are both re-releases of my popular (and somewhat ghostly) romantic lighthouse mysteries. New covers, new imprint, new pricing! These will Re-Release on  May 15th or sooner!
Angel's Gate (and this is a brand-new, never before seen cover!) is the latest in the series, and release date is set for June Something, 2014. I can't wait for you to read it.
Over the next couple of weeks, I'll be describing each of the books in greater detail. But I just couldn't wait to share my excitement. And by the way, this is no April Fool's joke. I promise!
Once, when I was working (term loosely used, here) in sales, I was told by some trainer/superior/mentor that that key to successful selling is liking your product. If you don't like it, she said, how can you convince someone else to like it? It is your passion that will sell this widget. Your desire to share this fabulous thingamajig with the world. Your absolute assurance that this little whatzit will improve their life, somehow.
So I'm here to tell you, I LOVE these books! I couldn't be more passionate about the Beacon Street Mysteries, their dynamic, sexy, charismatic players, their twisty-turny plots. My utmost desire is that you give one or two of them a read! I assure you, you'll feel rewarded.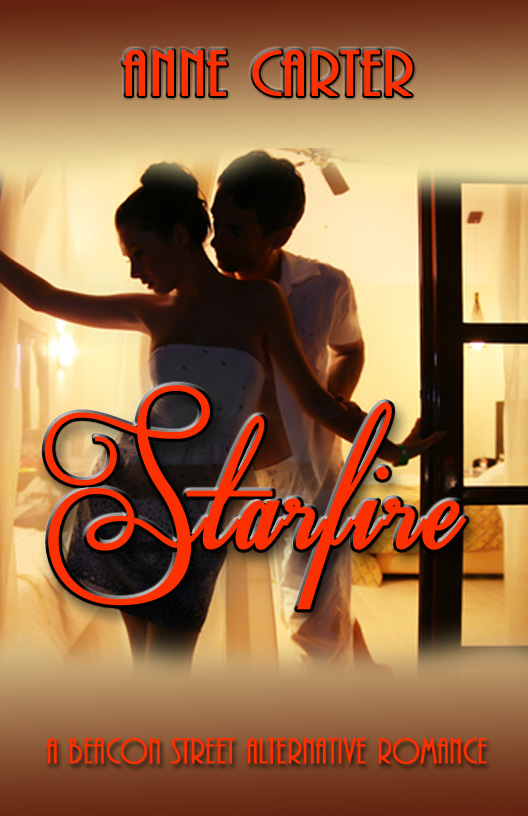 The update:  I've designed new and improved covers for all my Beacon Street mysteries, and am completely overhauling an early novel, expanding it to become the prequel to the set. I'm happy to do this, especially since I just finished the first draft of Angel's Gate. I will soon announce a blitz of cover reveals and release-day blog appearances, followed by a nice blog tour to introduce the new book and its mates.
I'm dying to show you the new covers, but, well, there's this schedule thing. This "dangling of carrot" idea. So sit tight… in the meantime, I have a novella up at Amazon that could use a few reviews!  Starfire, by Anne Carter, only 99 cents for your Kindle…
Paulie has launched. My buzz team and I have some fun things planned to keep you all entertained and engaged with Paulie and Kate. But the work doesn't stop there.
The Beacon Street Mysteries are still growing! Angel's Gate (working title) is next up, and I have a whole new mystery for you to solve. "Regulars" Case & Amy (Point Surrender), Matt & Rebecca (Cape Seduction) and Jack & Maddie (In Too Deep*) all return to enrich the story around newcomers Nate and Emelie, who find something very wrong at Los Angeles Harbor Lighthouse. A Beacon Street Mystery wouldn't be right without a venture into the past, and Angel's Gate happened to be a very interesting locale during World War II.
Taking a cue from popular Hollywood techniques, here is the "meet cute" between Nate and Emelie. Nate is on his way from Arizona to Los Angeles, where he hopes to uncover answers about his family history. Emelie is heading home from a weekend in Lake Havasu with her pals. Here's an excerpt:
________________________________________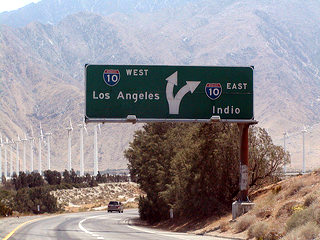 September, 2012
Nate stared out of the bus window as the Blythe, California, Greyhound station came into view. Was it the right thing to do, going back to Los Angeles? Of course it is. I have no choice. It won't leave me alone until I do.
The going-away party had been tough. Especially the kids. "Why are you leaving, Mr. Sinquah? When will you come back? Who will teach us our soccer lessons?"
So deep into his thoughts, Nate didn't notice the girl standing in the aisle until she spoke a second time.
"I'm sorry, I asked if this seat was taken."
"Oh! No, no, it's not. It's empty. I mean, no one is sitting here. Yet. It's, uh, free." Nate moved closer to the window, despite the fact that the seats were individual.
The girl sat down and sighed. "Thanks."
"Sure." Nate forced himself to look straight ahead. It would be rude to stare, but from what he'd glimpsed, the girl sitting next to him was unbelievably beautiful. Long tresses of chestnut brown hair hung in gentle waves around her bare shoulders, framing a heart-shaped face like he'd never seen before. Warm brown eyes with attractively curved brows. Fair, flawless skin.
"So where did you get on?"
Nate started. "Uh, me?"
His companion pretended to look around. "Uh, yeah. You."
"Oh. Um, Phoenix. I mean, I live in Flagstaff, but I got a ride to Phoenix first, you know, it's not that far, but the bus… the bus doesn't connect… at the right time."
Crap. I sound like a blithering idiot!
"What about you?"
The girl lifted her perfect eyebrows as her eyes searched his face. "I just got on in Blythe. You know that, right?"
Nate pursed his lips. "Yeah, right. I meant, do you live there? Or, are you going someplace else? I mean, home, like, do you live in L.A.?"
"You're cute. I'm Emelie." She stuck out her hand, and Nate stared at it for a moment before taking it in his.
"Nate. For Nathaniel. Nice to meet you."
"Same. I live in Santa Monica. And I would be home by now if I was not being punished. Dad thinks I need to be humbled. Hence, the bus ticket."
Nate looked at his hands, clasped in his lap. "I'm sorry. That's too bad. What did you do?"
"A little personal, isn't it?"
"Oh, sorry, I thought—you know, you offered the part about being punished, so…"
Emelie laughed. "I left school without telling him. I never wanted to go there in the first place. It's worthless information for a world I do not live in."
"What world do you live in?" Nate asked softly, wondering how anyone could turn down a college education, something he could only dream about.
"Certainly not the one that turns out corrupt politicians, greedy corporate moguls and white collar criminals. So we had a fight, and he cut me off. Just like that. It's okay, though. I will be fine."
The frivolity in her voice dimmed toward the end of her short tirade. She's not fine, Nate thought. She's scared and sad.
"Besides," Emelie continued. "I have other talents. I can earn good money with what I have. Personal services."
Nate felt himself blush. "You—you don't need to resort to that, you know. You could do lots of other things."
"Resort to what? Oh! Not that!" Emelie laughed again, and Nate's face grew even warmer. "I'm… special. I have a special talent. I'll tell you if you promise not to laugh."
"I won't laugh."
Emelie grew serious and stared past him out the window, so long that he was tempted to wave his hand in front of her face.
"I am psychic."
"Psychic? Like, you can read minds or something?"
"It's hard to explain. I… get visions in my head. I hear things. Things that happened in the past. I get feelings from, you know, others. It comes and goes."
Nate's eyes widened. "Why would I laugh at something like that? Back home, on the Mesa, you would be…"
"Would be what? What mesa? Wait—are you an Indian?"
"Hopi."
Now it was Emelie's turn for astonishment. "You don't look like an Indian."
"Well…" Nate searched for the right words. Outside the bus, the cactus rushed by. "Let's just say that someone in my heritage might have been white. I'm a… a throwback?"
Emelie reached over and took a strand of his hair between her fingers. "You certainly got that Tonto mane."
Nate licked his lips. References to the Lone Ranger's Indian sidekick had long grown stale.
"The cheekbones work, and the dark eyes, too. But your skin's too fair and those dimples just don't say 'How!' to me."
"'How'? Are you kidding me?" Nate smirked and looked toward the front of the bus, shaking his head. "Right now, I could say that your brown hair doesn't match your blonde personality."
Emelie's quick intake of air reflected her outrage. Crossing her arms, she turned her head the other way. Nate continued to smile.
In Indio, they got off the bus for a cold drink. Nate went into the restroom and washed his hands and face, then neatened his hair with a comb. He stared hard at himself in the mirror and tried to chase the worry from his mind. Los Angeles was a metropolis. He was an under-educated Native American with common skills. He didn't know the first thing about finding work in L.A., or where he would stay when he got off the Greyhound. His last job was in a reservation elementary school, but he had no credential. He could build furniture, but didn't have so much as a photograph of the beautiful pieces he'd designed.
Taco Town. All-Green Landscaping. Sunny Acres Rest Home. His best friend Johnny's suggestions on possible L.A. careers brought a smile. Yet Nate had left one important trait out of his self-assessment:  he was a survivor. He would find something.
Back on the bus, he half expected the-girl-who-didn't-use-many-contractions to find another seat, but she sat down beside him just before they rolled. After a few moments of silence, she giggled.
"I bleached my hair once. Platinum blonde. I thought Daddy would have a heart attack."
Nate turned to look into her face. "Your hair is far too beautiful to mess with. No wonder he disowned you."
Emelie colored and smiled with a glimpse of shyness. Encouraged, Nate ventured a question.
"What were you doing in Blythe, anyway? Doesn't seem like a very fun place."
"Havasu. I was up at the lake with a friend. I got a ride down to Blythe to catch the bus. I had to trade my watch for bus fare. But it's okay, I did not need it. I almost never looked at it. And besides. I have my phone. That is, until Daddy remembers to cancel it."
"Living without a cell phone isn't so bad," Nate murmured. "I gave mine up… oh, wait. I never had one."
Emelie appraised him. "I like that. I think you are a pretty smart guy, Mr. Nathaniel Hopi."
This time, instead of taking offense, Nate smiled. Inside his shirt, against his chest, he felt the warmth of the turquoise beads on the leather string.

________________________________________
So that's it. How Nate and Emelie meet. They are young, they are sweet, they are about to embark on an unsettling quest together. Stay tuned for the third Beacon Street Mystery! Coming Fall, 2013. I hope.
Oh, and that asterisk:
* In Too Deep is currently getting ready to re-release under the Beacon Street imprint. You will be advised! 🙂
We are about a month away from our big book festival! So thrilled to be rubbing shoulders with such wonderful mystery, romance and suspense authors. Just for fun, I put together this little poster, showing what I hope is the most recent cover of each authors' books. Take a peek at these intriguing titles!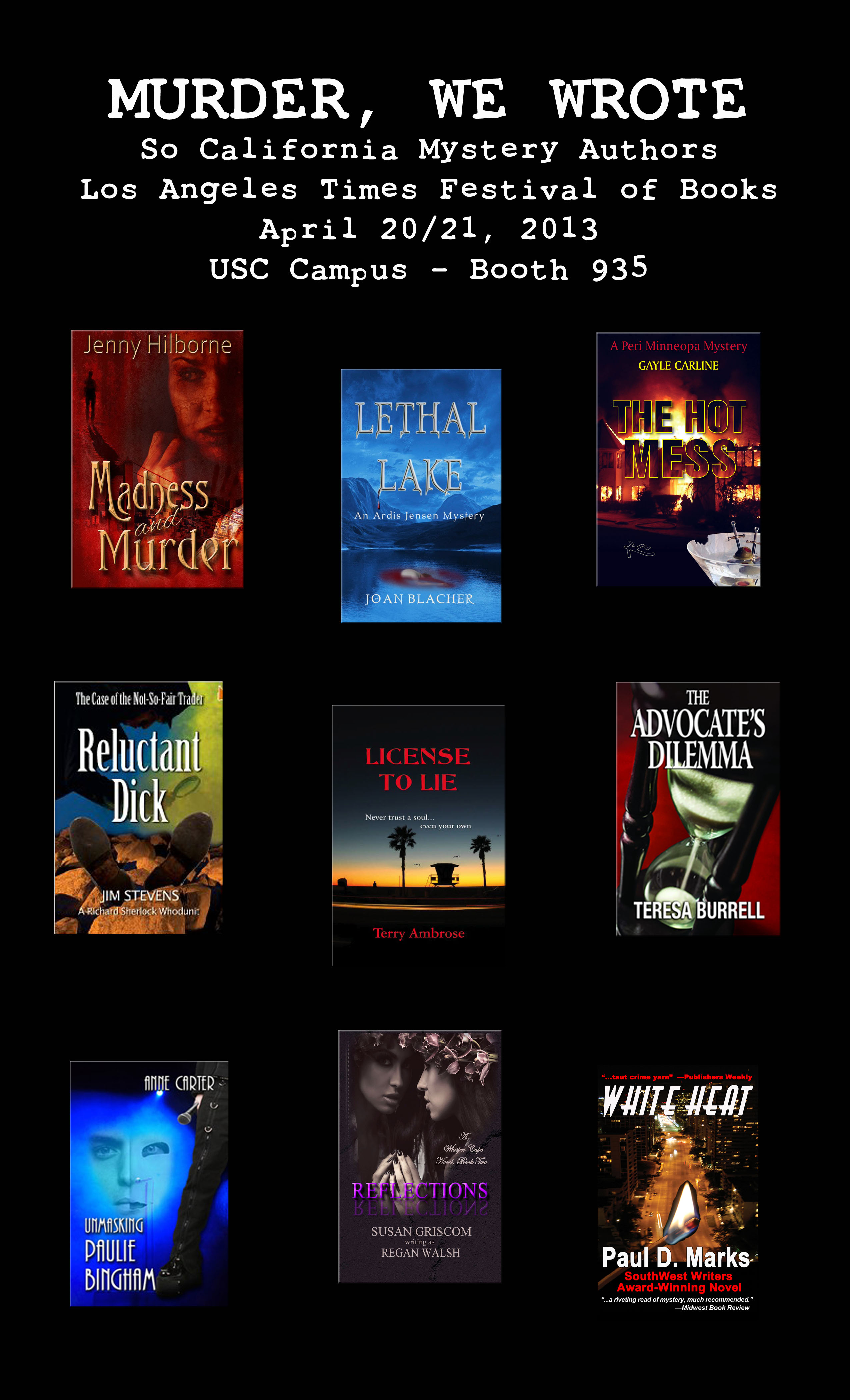 In the coming weeks I'll be sharing a little bit about each of our outstanding authors, so check back!