We are about a month away from our big book festival! So thrilled to be rubbing shoulders with such wonderful mystery, romance and suspense authors. Just for fun, I put together this little poster, showing what I hope is the most recent cover of each authors' books. Take a peek at these intriguing titles!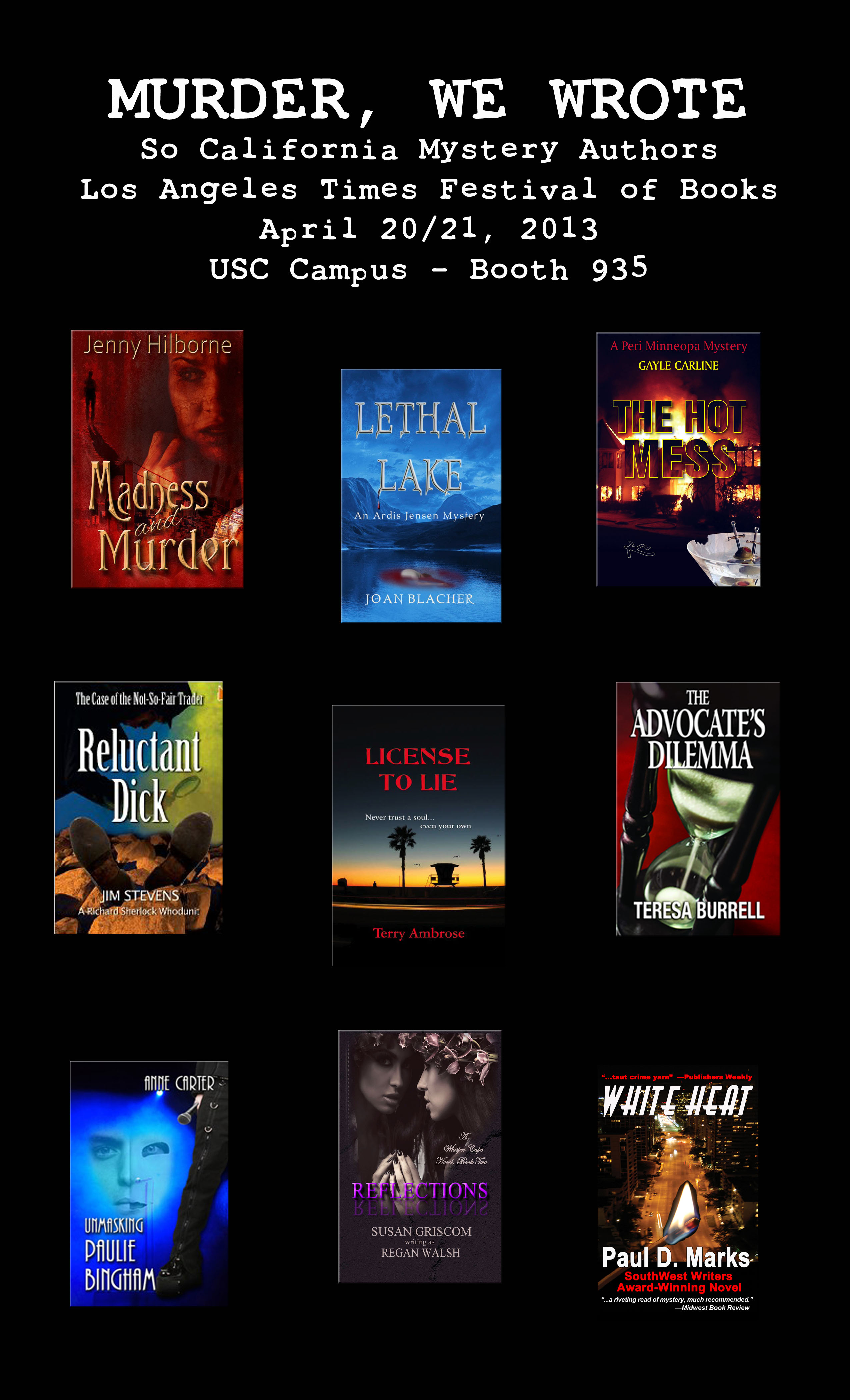 In the coming weeks I'll be sharing a little bit about each of our outstanding authors, so check back!
Read More

How was 2011?
As they say in the market, it was rather "flat." That being, some good, some bad, all balances out. Certainly business for Valdata Services declined as I saw three clients close their doors, one being my largest long-term customer. Sad, indeed, and I will miss these great people I interacted with on a daily basis. I wish them all much success (and stability) in the coming year.
Another downer was my inability to get any writing done; that is, if you don't count the nineteen essays I wrote for school. After a negative experience with a neurotic and overtly rude correspondent, I lost some ambition which is finally beginning to return.
I probably gained 13 pounds this year, and my school obligations discouraged me from getting to the gym, which I subtly abandoned in August. (They actually called to see where I was!)
On the upside, school was great and I'm 9 units away from my degree. The tutoring job I took at the college was rewarding and enlightening. I met lots of wonderful people this year, writers, teachers, high school alumnus, cancer warriors, mountain dwellers, and a few brave souls still working in escrow. I moved to Android this year, and my 6 year old Highlander is still running like new. My brother survived a life-threatening illness. My sons are both working, my grandson is happy and healthy, my daughter is a beautiful, talented and resourceful teen, and my husband realized his dream of building a mountain home. I am incredibly blessed and thankful.
What for 2012?
I have plans, nothing earth-shattering. I need to get back to the Y. I'll return to my tutoring job in the spring, along with taking 6 units. I'll complete at least one novel—hopefully the third lighthouse mystery set in Los Angeles. I'm going to try to re-release a couple of my backlist novels soon. Will continue to work with both the SCV Education Foundation and the Circle of Hope*. I hope to do some public presentations similar to one I did on California lighthouses for the library this past January. Three more units in the fall will finish my degree in English.
I also want to cook more,and visit more. Friends. People I keep saying I want to see but never do. And amidst all this activity, I want to stay calm, and healthy, and grateful.
*PS – See one way I'm supporting the Circle of Hope here!
Read More