Relay For (Your) Life (and Mine)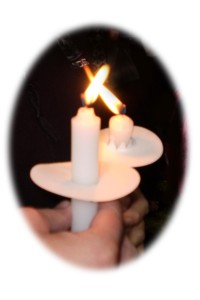 I took a day off to let the memories of the weekend mellow a little. This was my fourth annual Relay For Life and each year proves a little different. Not only does it grow, it changes personality as past organizers move on and new blood takes hold.
Our local event boasted 140 teams this year and more than 5,000 attendees; around 220 booth spaces (many teams had multiple booths). The track was trapezoidal, as the old rectangle layout no longer works. Parking, as always, was a challenge, despite the seemingly endless chain of lots at Central Park. When I arrived at 8:40 am (late as usual) there were exactly 5 spaces left. I got lucky.
Opening ceremonies were organized differently this year, due in part, I'm sure, to the increased number of teams participating. Noticably missing was L.A. County's huge ladder truck, which has, in years past, raised Old Glory during the Star Spangled banner and prompted more than a few patriotic tears. Instead, this year's committee opted to release doves to kick-off the always moving Survivor Walk. After a truncated turn around the park, survivors joined their teams for the team walk,  which was a random line up this year. Whether by good fortune or planning, our team happened to get announced just as we passed by the microphone. I do know we cheered the loudest.
At 10:30 am, we gathered before the stage to listen to winners of the inaugural essay contest. My 17 year-old niece, who won in the 10-12 grade category, read her moving poem, "United", and I couldn't have been more proud. She was awesome, confident and deserving of the necklace and gift card she was awarded.
It was great seeing "old" friends, good folks I only see at this event. The weather was kind this year. Our family walked at 1 pm, and although the "track" was longer this year (.4 mile), it didn't matter much as we walk for one hour regardless. We slowed briefly to give a listen to the 21st Century Blues Band, a great group of musicians reminiscent of the Allman Brothers. These guys are pro. We dutifully entered a few raffles and gratefully accepted free water.
Relay is so much more than just that one hour walk. Indeed, the walk itself seems almost inconsequential in light of the many other efforts and activities that precede it in order to make a good event successful. As the day progresses, you begin to feel the effects of the collective; the aggregate emotions, energy, and power that pervades the atmosphere in the Park. How can 5, 000 people, all of whom have been touched by cancer in some way, not create a massive aura?
It is with this collective spirit that we come to Luminaria in the evening. We are laid bare by our emotions, we express our grief–and our hope–openly. Stripped away are the pretenses, the thoughts of money, competition, raffle tickets and parking. Here we are united in remembrances, gratitude and in honor of each other and our loved ones.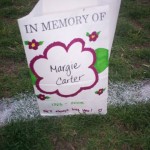 The luminarias are a testament to the outpouring of love for those victimized by cancer. As we walk, those white paper bags beckon to us, ask us to read their names and remember their stories. Remind us to never give up the fight. Lots of tears, lots of hugging, lots of memories are shared.
Some go home, others camp out for the night, but all are left contemplative and solemn, for a time. We come close to truly understanding why we came, and why we will be back next year. If you have not been to a Relay For Life event, you owe it to yourself to attend.