My Role at Downton Abbey
Today's writing prompt asked:  "If you had lived hundreds of years ago, what kind of work do you think you would have done? What job would you have wanted to do?"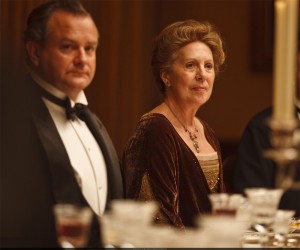 My first response was to question whether or not I would be restricted what what were probably rules & laws that didn't favor women in traditionally male roles. This led me to think about the women of Downton Abbey, so I modified my prompt to ask what role I'd play there.
When I think about the females at Downton, I realize that they are clearly divided:  the workers and the ladies. If given the choice, I'd step into the role of Isobel Crawley. She's a little more independent, a little less Victorian. Interested in science and philanthropy. Unafraid to express her opinion. Friends with the Dowager but rarely snooty. According to Downton's wikisite, Isobel is "well-educated for someone of her social standing and breeding, and trained as a nurse. She comes from a middle-class background and values family, charity, and education." Except for the nurse part (which I haven't done but could) the description fits. But would I marry Lord Merton? Probably not.
"Have you changed your pills?" – Isobel to Violet over Lady Edith's interest in becoming a journalist.
Were I to find myself working downstairs, I'd likely be Anna or Mrs. Hughes. Anna for her gentle strength, her tolerance and devotion; but I'd have trouble dealing with Lady Mary. Mrs. Hughes for her no-nonsense reason, compassion and Scottish spirit; she reminds me of my late mother-in-law. Plus, she's the only one who can stand up to Carson and get away with it!
Note:  Isobel is played by the lovely and talented Penelope Wilton, OBE. (The "OBE" stands for Officer of the Most Excellent Order of the British Empire, a designation she acquired in 2004 for her service to Dramatic Arts.)