Hello all!
Many thanks and welcome to all my new followers. It's gratifying to be a part of such a wonderful, diverse business!
Today is the BIG EASY BLOG HOP! I was "talked into" this lovely tradition by author Cheryl Norman, an old pal and wonderful author. Thanks, Cheri! Check out her terrific list at Amazon. Cheryl's books range from the romance of the road (Route 66 locales), Florida mysteries, a cruise ship full of nudists… and cookbooks! Take a moment to check out her diverse stories!
So, here are my answers to the posed questions.
What am I working on?
What am I NOT working on! I seem to have a lot in process right now, from introducing and marketing my Beacon Point Romances to writing the second half of THE GYPSY IN ME, the third novel in the StarCrossed Romance series. GYPSY takes places a few years after the ending to A HERO'S PROMISE, and involves the lives of the now grown children of romantic rivals, Mac & Dane; these big-screen heroes were introduced in StarCrossed Hearts.
Coming on June 19th is the third in the Beacon Point Romance series, ANGEL'S GATE. This is a great follow up to both POINT SURRENDER and CAPE SEDUCTION, all paranormal romantic mysteries that take place in California lighthouses.
How does my work differ from others in its genre?
Well, I've never much cared to worry about genres. I guess you could point to the lighthouses as a "different" aspect. Then there's my Paulie & Kate duet, books about the tumultuous relationship between a bisexual glam rocker and his very straight make up artist. UNMASKING PAULIE BINGHAM has garnered rave reviews all around. I call this story "alternative romance."
Why do I write what I do?
Good question. When I figure that out, I'll let you know! Next?
How does my writing process work?
When I have an idea for a story, I am always writing. Early morning, late at night, driving around town…the characters are building the story in my head. I'm really no different than any other author in that respect. I do tend to edit as I write, which might make me a bit slower.
I think that's enough for today! I'll be back tomorrow to share a little more, including any authors who might be following me in this "hop!"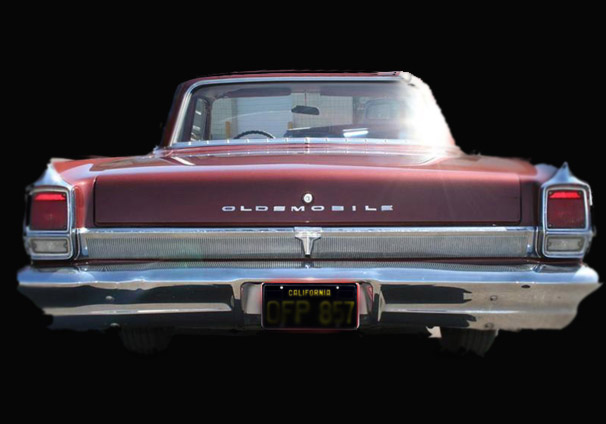 When I first got my driver's license, I was 16 and ready to take on the world. My parents, bless their hearts, found a $400.00, 1963 Oldsmobile F-85 (predecessor to the Cutlass) for sale at a finance company and bought it for me. I, of course, had begged for the 1965 Ford Mustang at the car lot on Topanga Canyon. It was a special edition, with tooled horses on the seat covers. My boyfriend had a 1966 Mustang, and we could have been almost twins. It was my pipe dream; the Mustang was $1800.00.
That Oldsmobile was a bit of a dog. My dad bought new seat covers (the kind you stretch on over the old ones) in black and white tweed. At some point, seat belts (lap only) were installed. The boyfriend installed cute little round mirrors out of the front fenders (trendy at the time). Unfortunately, that little maroon four-door also had a cracked engine block. What that meant to me was, I had to carry around a couple of gallons of water at all times, because the engine would routinely overheat.
Still, I was thrilled to be driving to school. I parked on the street within a block or two of Van Nuys High. My mother, ever the nervous wreck, required that I call her every morning when I arrived. Remember, this is WAY before the days of anything like a portable phone. So, beside the front door at home was a cup full of dimes. As I left each morning, I took a dime from the cup. Once at school, I made a stop at the payphone booth in the lobby of the administration building and I called Mom.
"I'm here."
"Okay. See you after school."
"Bye."
Ugh. Grr. Hrmph. Didn't see any other kids lined up at the phone booth in the morning.
Some days, either because I was late or just distracted, I forgot to call. On such days, I could count on there being a note on my windshield when I got out. "You forgot to call. –Mom". Yep, she'd drive all that way and look for my car. Mortifying.
Forty-four years have passed.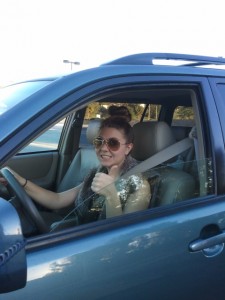 My daughter is getting ready to take her driving test. Soon, she'll be out the door in the morning, rushing, distracted, anxious to get a parking spot at Hart High. There is no cup of dimes by the door, and even though she'll have a cell phone in her purse, she won't be bothered to call me.
Feeling a very strong connection with Mom right now. I'm sorry, Mom, for being cranky. Sorry for the times I forgot to call. Sorry if I ever made you worry a day in your life.
Now I understand. I know there will be days when I'll be tempted to take a little drive down Newhall Avenue, when I might happen to glance to the side, when I might glimpse the blue Highlander in the "Q" lot.
I also understand it's not just about worrying over traffic and safety. It's also ALL about letting go of the dependence. For eighteen years I have been her wheels (and her tether), logging countless miles and countless hours of mostly uninterrupted talk, confidences, laughter. The good news is, someday she'll be driving me around, and hopefully, the confidences–and laughter–will continue…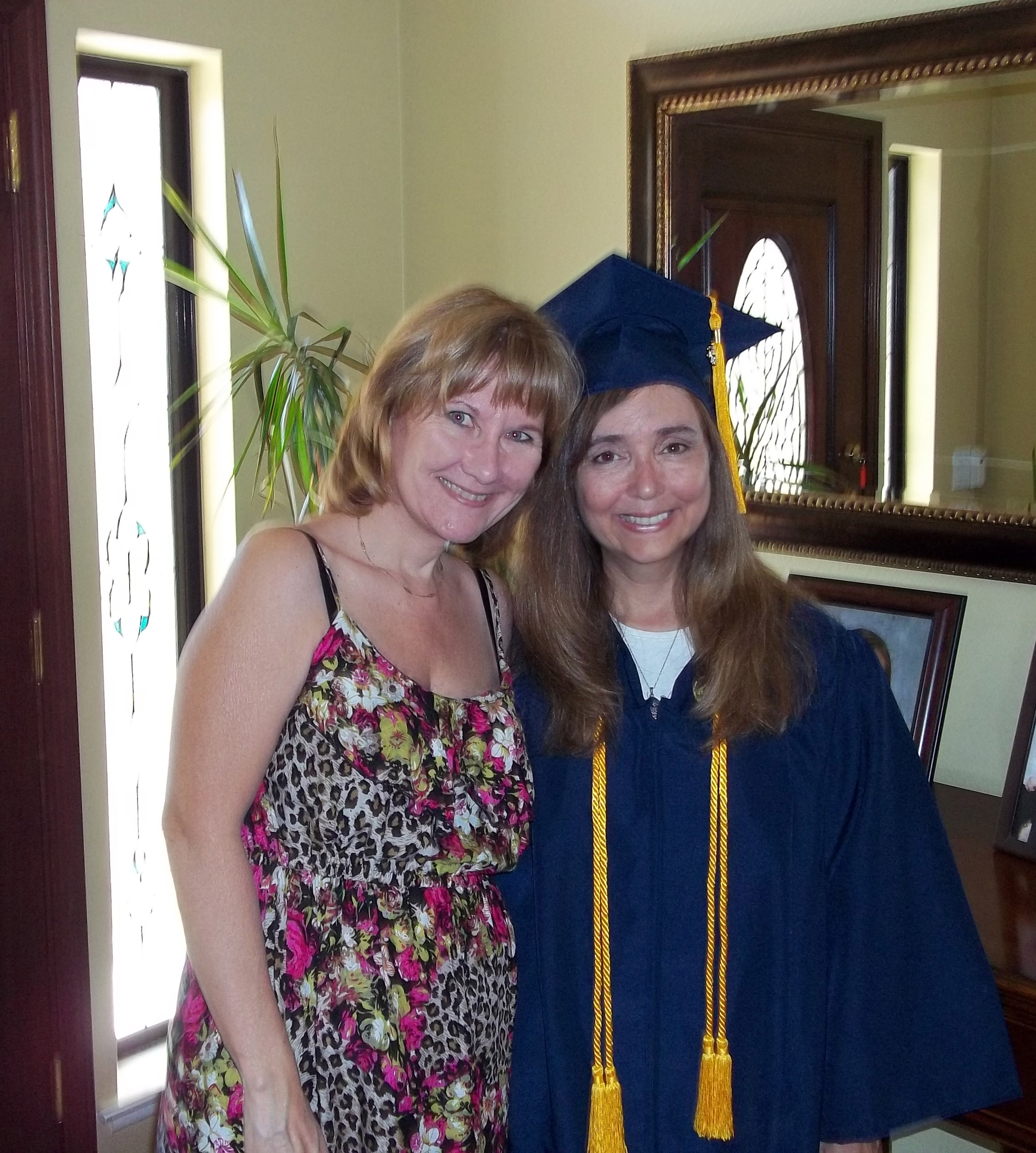 Yesterday, I graduated from College of the Canyons with the class of 2013. If you take time to read the statistics, you'll find that graduating students ranged from age 17 to 68, a span of 51 years. Interesting, because I started (what was then called) junior college at age 18 and have finished at age 59.
Forty-two years. When I completed the requirements for my Associate's Degree back in December, the counselor asked if I would be "walking" at the once-a-year graduation ceremony in May. Without a moment's hesitation I confirmed that yes, I wouldn't miss it for the world. I mean, after all this time, all this effort, I deserve to don that cap and gown and be recognized, right? But as the days grew closer to my big event, I began to feel a vague uneasiness. It was the same kind of discomfort I felt the first time I stepped into a classroom at COC, taking a seat amongst a room full of late-teens and early-twenties. As I joined that group of 600+ students in the Aliso quad, what would I do? To whom would I talk, gab with, excitedly anticipating the grand walk down the concrete steps into the Honor Grove? Who would tell me if my cap was on straight? Laugh with me at the hysterical goofiness of my fellow classmates?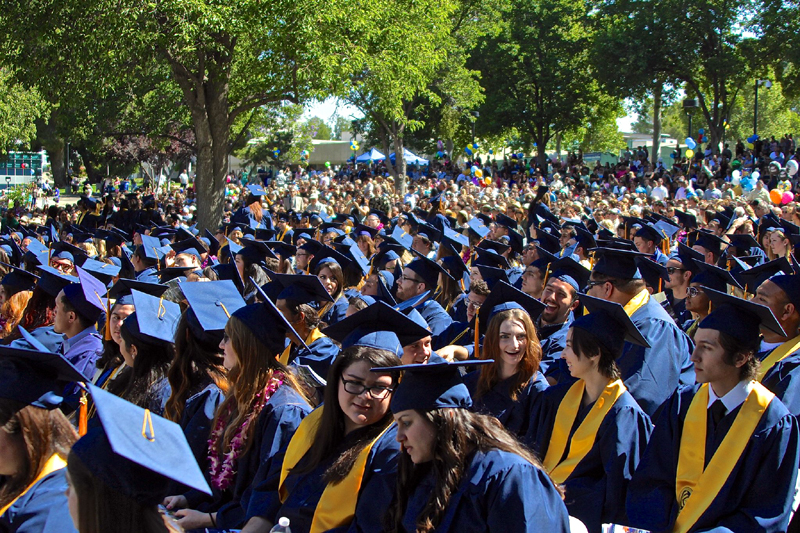 I needn't have worried. A young woman named Brandi happened to stand close by and we chatted. She seemed to want someone to stand beside as well, so we moved around together, deciding where the best place would be. We exchanged that minor bit of info, her major, mine, plans after COC, etc. She wasn't a day over twenty, if that. But she was friendly, kind and also anticipatory. We sat together during the graduation and exchanged jokes about the speeches, the weather, the other students. Thank you, Brandi, for not caring that I finished high school twenty-some years before you were born. You are a charming girl and I wish you the best.
Three memorable—dare I say profound?—statements were made to me yesterday that really struck me. The first was spoken as I crossed the stage and was met by Chancellor Diane Van Hook as she took my hand in congratulations. I squeezed her hand, emotional, thrilled, accomplished, and I thanked her "so much." I didn't say what for, assuming it was obvious; Chancellor Van Hook embodies all that is great about College of the Canyons, and I hold her in the highest esteem. She made the school what it is today, and I am enormously grateful. But she tilted her head down and smiled and said, "No, you shouldn't be thanking us. You're the one who accomplished this. We should be thanking you." Wow.
My two sons were in the audience, along with my husband, my sister and another family friend, all of whom had taken the day off from work to see me graduate. One of my sons stayed just until after I received my faux diploma, then he had to go on to work in Glendale. I texted him from my phone, thanking him for coming. He texted back to me, "I'm proud of you!" Wow. Imagine, my child is proud of me.
After all the hoopla had passed, we traveled to my favorite Chinese restaurant for lunch. I waxed sentimental in the back seat with my sis, saying how I wished our mom and dad could have seen me. I joked about my lengthy college career. My sister nodded, then said, "Today you put a period on the sentence you began speaking forty-two years ago." I looked at her in awe. "Where'd you get that? Reader's Digest?" She just shrugged. "I don't know. It just seemed right." Damn. (We are some talented writers, eh?)
What does being a college graduate mean to me? Many things. One, I finished something I started. An important something. I've been deemed by a great school to have a well-rounded education in a subject I enjoy. One I live. I've learned lots of new stuff, made some new friends, taught others, shared joy. I've been a positive example to others. I've proven that you can go back, that there is always more to do, to see, to learn.
COC is like a big family. I've been invited back. I can still take classes, sit in on film screenings, teach in the tutorial lab, attend programs and seminars. Somehow, I think I will still find myself there from time to time, despite the fact that my tassel has move to the left side of my forehead.
Going to the festival as a book reader? I have tips for you, too!!! Because really, we authors are also readers. We escape the booth and walk around looking at all the wonderful books as far as we can see. We struggle, because we need to be behind the table talking up our own books but we want to be out there admiring, thumbing through, turning over and plopping down the plastic for other peoples' books.
So here's how you do this. With a little preparation, you'll have a great time and come home with exquisite reading material:
Arrive early. Parking is… a little challenging. There are buses, too, so if you take the time to do a little research, it could pay off royally. Driving down to USC from… uh… anywhere can be daunting, so know where you're going before you get behind the wheel. Parking is $10.00.
Bring sustenance. Food is… a little expensive. April is normally warm, so bring bottled water and sunscreen. Hats are good.
Dress for comfort. Layer your clothes if the weather warrants. Walking shoes are a must.
Budget. Think about how much you want to spend, and expect to spend twice that much. Honestly, it happens! And while you're thinking about how many books you'll be toting home, also figure out how you'll carry them. Some book devourers drag along those folding shopping carts. Others bring wheeled suitcases. Backpacks work, too. Booksellers may or may not have shopping bags.
Money! Bring some cash for those few vendors who are living in the dark ages. Most will take checks, and more are now accepting credit cards.
Get a map, so that you can mark booths you intend to return to. Better yet, buy the darned book when you see it the first time. And get it autographed!
Most important:  Come meet the authors of MURDER, WE WROTE! Booth number will be coming soon.
Keep up with our plans by visiting our Facebook page!
When I was a kid, my mother used to sing to me. I was, at times, embarrassed, bored, delighted, patient and impatient. She sang silly, childhood songs, Christmas carols, honky-tonk chartbusters and lullabies. And once a year, usually while rolling popcorn balls and filling treat bags, she crooned Halloween songs to me and my sister. Here are my favorites:
Today I renewed my vow to raise a bunch of money for the American Cancer Society. I'm ready to hit the ground running! Team Check 'Em Out is poised to break our record this year by building our team, trying new ways to fundraise, restaurant nights, dessert sales, percentage donations, and good old fashioned bowling-alley-panhandling! Hey, we're not proud!
Well, actually, we are. We have a great team of dedicated, passionate and motivated members, each with a personal reason to fight this horrendous disease. Sadly, our Reasons to Relay still grow with each coming year, but we remain confident that our efforts will be rewarded someday.
Planning will soon begin for our SIXTH ANNUAL wine tasting,
POP A CORK FOR A CURE!
This awesome event will be held in early May, date TBD — but you can bet we'll let you know. In the meantime, I'm humbly accepting donations at my Relay page. Donations of $100 or more will get you an autographed copy of my latest book–but I'd take just your Starbuck's money for a couple of weeks, too!
Who's with me?