Cape Seduction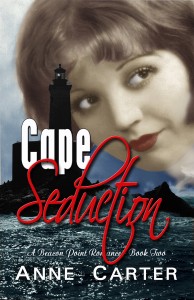 CAPE SEDUCTION by Anne Carter
ISBN:  Coming soon
Pages:  361
Publisher:  Beacon Street Books
After being the backdrop for 1948's critically acclaimed tragic romance, Cape Seduction, Northern California's Dragon Rock Lighthouse was shuttered and abandoned for decades—and was the last place up-and-coming Hollywood starlet Darla Foster was seen alive.
When photojournalist Rebecca Burke locks horns with Los Angeles attorney Matt Farralone while trying to gain access to the derelict off-shore beacon, she encounters the spirit of the sassy, once-promising Oscar-hopeful Foster, and uncovers a 60-year-old secret that sets her world on end.
Now available for your nook, Kindle, Sony Reader or other ebook device!
~~~~~~~~~~~
Ready for an excerpt?
Check out Chapter One – Present Day – and Chapter Two – 1948 – HERE.
~ ~ ~ ~ ~ ~
RE-RELEASE COMING SOON!