2016 and a Big Rock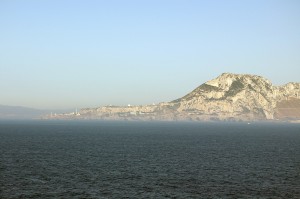 Ten years ago, my husband and I had the extreme pleasure of traveling around the coast of Spain and Portugal, from Barcelona to Lisbon. What a trip! We'll never forget the exciting ports, the gorgeous M.S. Deutschland, the lovely company of our friends. One point of interest was the passage through the Strait of Gibraltar. We marveled, and took the usual photos while passing through (the ones of us with our hair horizontal in the wind aren't worth reprinting here) the eight-mile wide waterway.
We are looking at again cruising the Mediterranean in 2016. One of the trips we considered would take us to Gibraltar, but not through the Strait. What's there, I wondered? So I read up. Felt a little dumb for not knowing that Gibraltar, which is made up of about 2.6 sq miles and is home to 30,000 people, is a the British Overseas Territory. Listed as "Gibraltar, Great Britain" in the travel documents, this small community is located on the southern end of the Iberian Peninsula and its top attraction are Barbary Apes, tailless monkeys that congregate in a viewing area. "The last remaining population of the species on the European continent, these playful primates are thriving."
Of great interest to me are the historical aspects of Gibraltar. Think about it – this point is an amazingly strategic spot to control entrance to the Mediterranean, and during WWII, it served as an enormously important base for the Royal Navy. There are caves and tunnels throughout the rock.
We may not actually take this cruise, but I'm happy that doing the research brought me up to speed on this tiny bit of geographic fascination.